Registration
To use the features; Favorites, Watch Lists, Alerts, Automatic Email Alerts, Saved Searches, Recently Viewed Documents, My Publications, User preferences, and Shopping Cart, you must register as a unique user to allow the application to identify you and keep track of your personal profile choices and purchases. Please note that you will only have to register once. If you try to use any of the features listed above and you have not registered, the application will prompt you to register as a unique user.
When you register as an individual or unique user, a cookie (if authorized) is placed on your computer with a minimal amount of information to identify you so the next time you log into the application you are automatically identified and provided access to the application. If your cookies are deleted or you log in from a different machine, you will need to log in using your personal user email address and password. To do this. simply fill-in the"Returning Registered Users information, and then click Submit. Once you do this, the information from your cookie is reset.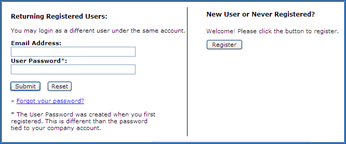 To register for the first time as a unique user:
Log in using your account username and password. This is the username and password issued to your company by IHS when your company first purchased the IHS Standards Expert product.

If you have not registered as a unique user, you are prompted to create a user profile on the Registration page. You only have to enter this information once.

Enter your first name, last name, and email address. Note: Your email address will also be your Username.

Enter a password of your choice.

Re-enter the same password, and then click the Submit button.

The next time you access IHS Standards Expert, use your Account Login name/Password to log in. In some cases, you may not know your account credentials as you may be accessing the application using a blind login created by your account representative. Since your user credentials are automatically saved as a cookie on your computer, you may not have to enter your user email address and password. For example, if your company Account Login name is "CompanyXYZ" and your Account Password is "rockies123", which is the Login name and Password you use to log in, the system may automatically recognize you as a registered user. You now have the ability to use any of the features that require you to be identified as a unique user to IHS Standards Expert.
Important Note: IHS does not sell or rent online user information to other companies. You will not receive unwanted "spam" as a result of completing this registration form. For more information, please review the IHS Privacy Policy.
Related Topics: